Hi there again!
I didn't update yesterday, sorry about that.
I was going to but then I forgot >O<
Tee Hee, moving on!
I ordered a heck load of stuff off VivaLaNails yesterday.
I was interested in the Blogger set so now I'm on the wait lsit :D
The design I have on today was from
Nails by Rachel
Her blog is really cool >O<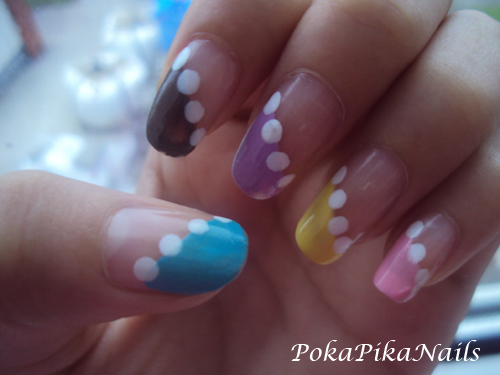 For the colors... [Wait for the Barry M spam..]
2nd picture left to right.
Pure Turquoise, Mushroom, Berry I/C, Lemon I/C and Strawberry I/C.
All by Barry M.
A bottle of Barry M in Ireland is about 4.50 euro.
So it ain't the cheapest of nail polish.
And theres a limited stock of nail polish brands here.
With no China Glaze, OPI, Nfu-Oh, Sally Hansen etc.
But yeah, I'm happy with my polishes and my student pocket-money xD
♥ AnnKiins.